Get professional assistance to obtain your Police Character Certificate from Karachi on urgent basis. It is also known as Police Clearance Certificate or Character Certificate in many foreign countries. Any person who stayed in Karachi can get his Police Character Certificate from local Police department by following a certain procedure.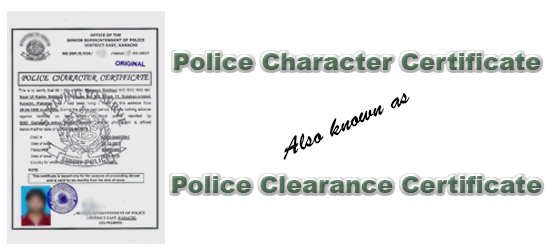 Karachi Police is divided in multiple zones, towns and districts. Therefore, applicant can be asked to obtain a separate Police Character Certificate from relevant Police department in each zone if he stayed at different places in Karachi.
At CertificateKarachi.com we have a professional and experienced team of lawyers / case managers who can assist you and your family in Karachi to obtain Police Character Certificate from relevant police department in Karachi. We will guide you through this process and our experienced case managers can do all the legwork on your behalf.
Required documents to get Police Character Certificate Karachi:
Copy of applicant's CNIC
Copy of applicant's passport
Copy of applicant's PP Size Photographs (4 Nos.)
Copy of father's CNIC
Copy of mother's CNIC
CNIC copy from any witness / reference / neighbor
These are basic documents to get Police Clearance from Karachi but concerned Police departments can ask for any other document / information from applicant. From foreign nationals, CNICs are not required if they stayed in Karachi for job / business purpose. But they will have to produce a letter from their employer confirming their job and stay (with specific period) in Karachi.
We can also assist you in attestation of Police Character Certificate from Notary Public, First Class Magistrate, Ministry of Foreign Affairs in Pakistan, Saudi Embassy, or any other authority as per your requirement. But this will be considered as separate task and additional documents / time will be needed for this process.
Submit your inquiry now to proceed in issuance of Police Character Certificate from Karachi.
Downloads